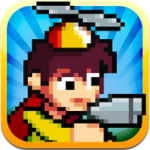 Sound design and music production for Super Head Esploder X, an 8-bit arcade game for mobile devices from the hilarious minds behind SMOSH. The music tracks for the game levels are custom chiptune-style productions I created based on SMOSH's own popular songs.
They ADORE your work! Everything about the audio has been absolutely crisis-free, thank you so much!

People love the music and sound. Eric is great. Will certainly use again.

THIS IS AMAZING!!! Reminds me of the classic SNES games that would use chiptune rock music. It's PERFECT.